The ASEAN region have selected Digital Video Broadcasting-Terrestrial (DVB-T) as the final Digital TV standard and have agreed to switch from analogue to digital broadcasting by 2020. Singapore has already been using the DVB-T for more than 10 years and has moved on to the latest standard DVB-T2 as an early adopter. The latest standard DVB-T2 will accommodate more TV channels allowing for HD and 3D content, better picture and sound quality and a 30-50% increase in efficiency.
The new signal is not compatible with the current in-built TV receivers or equipment, a new additional receiver box or a new TV.
Simple, Effective Solution for Digital TV
Vodoke has designed a simple yet effective receiver plug into a laptop or the Vodoke PLAYSTAQ as a USB and TV cable (Radio Frequency Connector). With a quick one-time initial scan Vodoke FIN is able to detect and save all available channels. The user-friendly menu provides features, allowing for:
Subtitle Selection – users can pre-select their preferred subtitle language for each channel
Audio Selection – users can pre-select their preferred audio language for each channel
Parental Lock – users can set a password for content above a selected rating
The best parts? – When the switch-over is completed, you do not need to replace your TV … AND…if you don't own a TV and want to enjoy the local live channels you can use the Fin2 with your PC or laptop!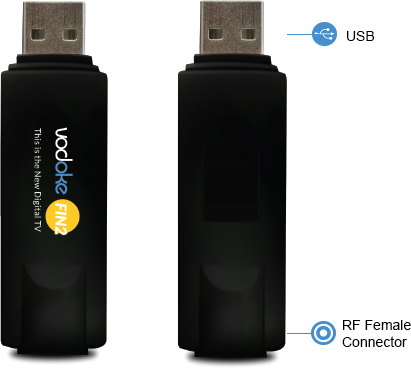 Enterprise Benefits