Here's a quick overview of how our products have developed since we started: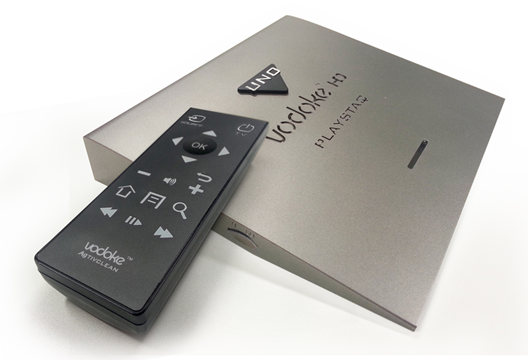 June
Developed first edition of Set-top box and remote
Vodoke's first set-top box (STB) was very simple in design, and looked a lot like the Android boxes that can be found today. The STB came with only one ethernet port, one HDMI and one USB port.
February
First Design Patent granted for Playstaq
Developed second edition of Set-top box and remote control
Set-top box with amended S/PDIF, earphone, VGA and micro USB port. The remote control was designed with lesser buttons than the previous version and an aluminum texture.
March
Developed third edition of Set-top box and remote
New set-top box design inspired by Lego blocks, including a thin layer of aluminum to create a heat sink plate for efficient heat dispersion. New smaller, lighter remote designed in a comfortable holding shape.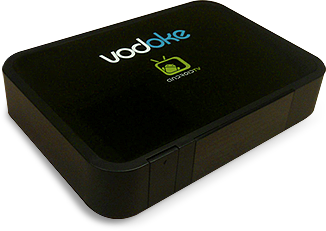 April
Launched fourth edition of Set-top box and remote
Kept the same earlier design but created bigger ventilation holes for more efficient heat dispersion. Similar to the previous version of the remote control, but slightly bigger using raised surfaces instead of physical buttons. Created learnable buttons for controlling both TV and PLAYSTAQ.
July
Launched fifth edition of Set-top box
Set-top box with new color.
December
Launched PLAYSTAQ and Gen5 Remote Control
Thinner, lighter set-top box with new 'high-heel' shaped design. Added more USB ports and Micro SD card reader on the side. Gen5 Remote control added 3 spare programmable buttons for customization.
Launched VODOKE TEAM, VODOKE PLAY, VODOKE CAST and VODOKE SERV
Launched DRM in VODOKE CAST to meet industry standards of media protection
Launched VODOKE ROOM for room control in a hospital project
Launched VODOKE MEAL for meal ordering system in a hospital project
Launched Healthcare BMS (Bedside Management System)
Launched PMS (Property Management System) integration to VODOKE LINK with Hotel partners
Launched VODOKE PLAY with new UI and new module with VODOKE LINK and integration billing system to Telco partners.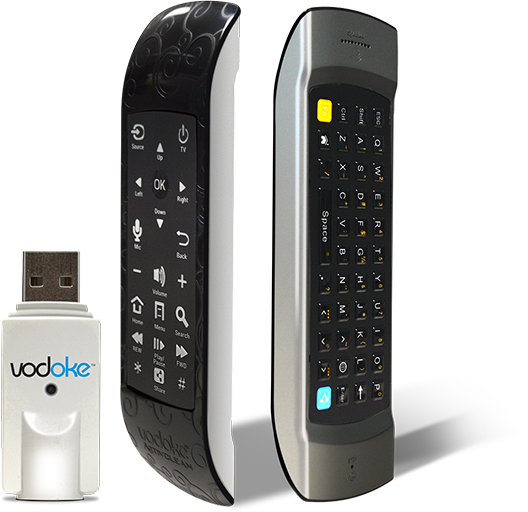 May
Design Patent granted for Playstaq 'high heel' inspired design
August
Design Patent granted for Gen6 Remote Control
Launched VODOKE GEN6 remote
To enhance the user experience further, Vodoke developed a new remote with full qwerty keyboard, built-in microphone and speaker, earphone jack for headphones, built-in chargeable battery, additional G-Sensors for 3D gaming, plus all the features of Gen5.
Released VODOKE CARE software
Vodoke developed its own software to monitor set-top box, server and network in further detail to assist with real-time remote monitoring, analysis and troubleshooting.
Launched VODOKE FIN
Developed first dongle for receiving DVB-T signal and converting it to digital.
Launched E-commerce Website
Vodoke decided to launch an e-commerce website at www.playstaq.com so that anyone could purchase Vodoke products easily.
Launched PLAYSTAQ 2
Following the same design as PLAYSTAQ the set-top box runs on Dual Core 1.6 GHz processor.
Launched VODOKE FIN2
Based on VODOKE FIN, the new dongle can receive DVB-T2 signal and convert it to digital – perfect for the ASEAN switchover. In addition, the USB dongle is compatible with both the PLAYSTAQ and a laptop/PC, and has improved menu options such as preferred subtitle language, parental lock, preferred audio language and much more.
Added VOD assembler to Vodoke CAST
VOD assembler feature was developed to enable enterprise customers to curate content and create their own scheduled channels.
Launched VODOKE PLAY Multi-Platform: Tablet Android , iPhone, PC
Vodoke developed the same interface used on the PLAYSTAQ for use on other personal devices and PC/laptops.
Launched VODOKE PLAY 7.0
VODOKE PLAY 7.0 is a cleaner and sleeker looking interface, with thinner menu bars, a notification bar, and use of icons as well as words for easy navigation.
February
Media Development Authority (MDA) approved the DVB-T2 label indicating that the equipment complies with Singapore's receiver specifications and is suitable for use to receive the MediaCorp digital channels.
June
First Patent for our user interface granted!
August
Opera PMS Integration and License approved for Vodoke IPTV.
September
Design Patent for Playstaq IV granted!
Design Patent for Gen7 Remote granted!
Launched VODOKE BEAM Android
Feature developed to enable users to easily and securely share their content from their Android smart phone or tablet with the TV.
Launched VODOKE BEAM iOS
Feature developed to enable users to easily and securely share their content from their iPhone or iPad with the TV.
April
Incorporated Vodoke Vietnam.